Composite Rolls
What are the uses of Composite Rolls in Industries?
Composite Rolls are having a high capacity to manage the high temperature and it was widely used in many steel manufacturing industries. Day by day composite rolls becomes the most wanted one because of its uniqueness and it will be the best one to the finishing stands of rebars rolling lines in the steel manufacturing industries. Now it is available under the low cost with the best quality.
Most Wanted One Forever
Worldwide it becomes an essential one for multiple processes. Most of the industrial people are giving them positive feedback about composite rolls. You can also compare the worth of it with another one then only you will get a better idea about it. Every year the production of this machinery is increased and the users are also increased simultaneously. Still, it got positive feedback from many metal manufacturing industries and it indicates that everyone likes to use it with more satisfaction. Composite rolls made up of special design for withstanding at a high temperature. It will never disappoint the user at any time because it is very easy to handle and now it becomes the computerized one also.
Finish the Process On Time
Likewise, there are so many benefits you will have from it and surely it will be the best one to the last stand for finishing mills in rebars' workshop. If you are having any doubt to use it you will clarify it from the material compared with casting iron. Still, there is no drawback is present one it and it indicates the worth of this amazing machinery. Hereafter you no need to worry about the assembly of composite rolls, we will do it well for you and offer good maintenance suggestions. These are all the benefits you will have from it so let's started to utilize it and suggest it to other industries also. Try to share the merits of it with everyone and surely it will be more helpful for someone.
Composite rolls are the best selection for the last stand of rebars' rolling mill right now. Based on the good wear resistance, composite rolls has replaced cast iron rolls for the last stand of rebars' rolling mill. It could keep higher rolling tonnage and reduce the changing times of mill rolls. Compared the cost of rolling tonnage per ton between the composite rolls and the cast iron rolls, composite rolls have obvious advantage to save cost.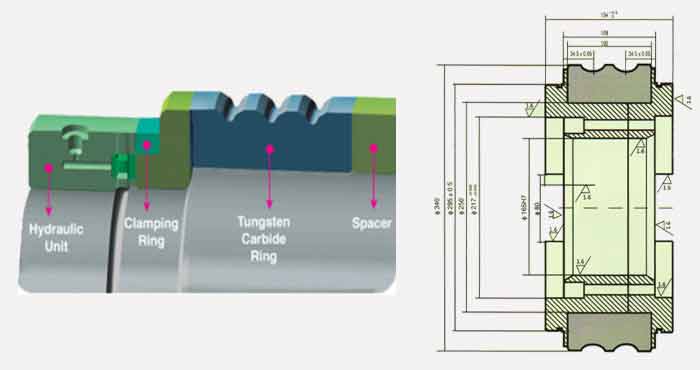 Composite rolls are consisted of hydraulic unit, clamping ring, tungsten carbide rings, and spacer. Hotion designs number of tungsten carbide rings according to the request of working condition and dimension of grooves. The hydraulic unit will offer 250MPa pressure power to the fixed outer side. Then locking system will be tightened to remove the gap. As the big pressure power has stretched the shaft, it could keep the pressure.