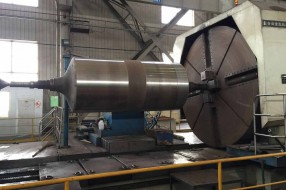 Technical information
Hearth Rolls
In the continuous annealing line, strip steel is very thin and it has fast transfer speed. With the high working temperature of 950℃, hearth rolls should bear the wear of heavy haul and corrosion of many gas. The working performance of hearth roll will be the foundation for keeping production stable and high efficiency.
Products Advantage
◆ High temperauture resistance, good thermal impact resistance, good nodulation resistance, good wear resistance.
◆ Keep tension stable in the furnace.
◆ Good running partial resistance.
Material
GX40Cr28Ni48W5, GX40Cr25Ni20, GX25Cr18Ni9, GX10Cr20Ni32NB+GX40Cr20Ni25, GX25Cr18Ni9+25CrMo4, GX10Cr20Ni10Nb