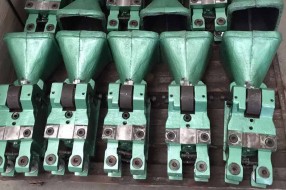 Technical information
Rolling Mill Guides

Uses of Rolling Mill Guides
Rolling mill guides is most used in the nonstop rolling purposes. It treats the stock which is rolled that features different attributes and attractive design. It assures simple installation, safe operation, long-lasting durability, and others. If you are looking to purchase a roller mill guide then you are landed at the right destination. We are a leading rolling mill guides manufacturer in the industry. We offer roller guide machine in different models that suit for all industrial purposes. We manufacture products with premium-quality alloyed metal that offer excellent durability. It has great anti-corrosion that makes it suitable for all industry applications. It is loaded with heavy-duty roller bearing for different sections. We offer rolling mill guides in various types, sizes, and designs. You can select the machine which suits your industry requirements. The rolling mill guides are manufactured using new technology and quality material. It is full compliance with industrial standard quality.
Features of the Rolling Mill Guides
Our machine has excellent features such as corrosive resistance, unique design, simple maintenance, plus others. Our roller entry guide is made in manual plus automatic models. It is provided with heavy taper roller bearing for different sections. We provide the best quality of machines at a lower price. Our rolling mill guides box is offered with the heavy taper roller bearing for different sections. The simple and unique design of the machine lets simple installation with excellent performance in various rolling conditions. We manufacture machines according to client requirements and deliver them on time. The rolling mill guides box has easy designs that assure high standard of durability. Our main aim is to provide top-notch products to our clients. The machine is abrasion and corrosion-proof that does not require maintenance. You can purchase most excellent machine for your project.
Mill guides are to help the billet safely pass through the rolling mill, clear oxide scale of billet, and make the surface of billet more smooth. No matter which kind of mill guides, we are able to produce it to meet your requirement. Meanwhile, our engineers would like to optimize the customer's grooves' design in accordance with customer's rolling process.
Products List
◆ Two Roller Entry Guide For Roughing Stand, Intermediate Stand, Finishing Stand.
◆ Four Roller Entry Guide For Finishing Stand of High Speed Rolling Line.
◆ Slit Rolling Guide For Two-sliting, Three sliting, Four sliting, Five sliting Stand.
◆ Twist Roller GUide For Finishing Stand of Rebar Rolling Line.
◆ Exit Guide For Different Stands of Rebars & Profile Rolling Line.
◆ Sliding Exit Guides for Roughing, Intermediate Stand.
Mill Guides Plates & Rollers

Guide rollers have maximum consumption among the spare parts of mill guides. With the technical developments, we are good at many materials such as X153CrMoV12 ,WC and TiC. Our technical department has developed new material which we name it with special alloy. It has better working life than normal material, and better prices than WC/TiC. No material what request of guide rollers, you could find best solutions from us.