Drill Bits & Drill Pipes
During the smelting process of the blast furnace, it will continuously produce the pig iron and slag and accumulated in the hearth. Opening the iron hole on time and discharging the slag and taping the iron, then the space can be re-formed to accommodate the continuously generated slag and iron, sa as to ensure the continuous production of the blast furnace. The quality of the drill is related to the quality of the opening effect. It will directly affects the amount of iron and slag, and affects the maintenance of the tap hole. Therefore, the blast furnace drill bits are the important spare parts for the production.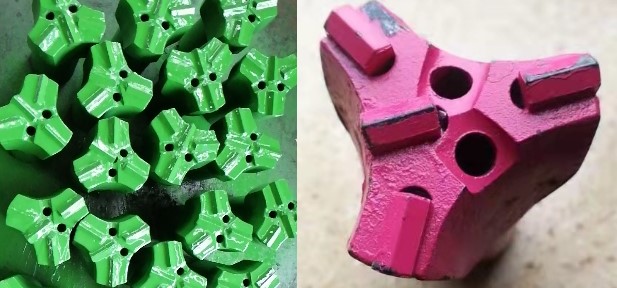 Through the actual use of the equipment on the production site, our team constantly transforms and improves the spare parts in front of the furnace. Now the specialized production technology of blast furnace drill pipes and drill bits has been formed. According to the effect of torsional pressure, bending, friction and other supportive pressure on the drill bits under high temperature environment, we improve the chemical composition and production process of the drill bits to increase the working life of the drill bit in the high temperature environment.
The blast furnace bits are mainly composed of the steel body and tungsten carbide bit.
The composite blast furnace bit needs to consider the rigidity of the fixed teeth, wear resistance and brazing strength of the head of the drill body and the heat treatment relationship of drill bits from high temperature to normal temperature. Generally, chromium molybdenum low carbon alloy steel is used, and the alloy head of the drill bit is made of tungsten carbide
Drill Bits Types and Specification

Triple Bits Ball Bits Cross Bits
| | | | | | | | |
| --- | --- | --- | --- | --- | --- | --- | --- |
| TYPE | L | TOLERANCE | h | TOLERANCE | h | TOLERANCE | r |
| Ø32 | 75 | ±0.5 | 14 | ±0.5 | 8 | 0-0.6 | 20 |
| Ø40 | 75 | ±0.6 | 14 | ±0.5 | 8 | 0-0.6 | 22 |
| Ø45 | 75 | ±0.6 | 16 | ±0.5 | 10 | 0-0.6 | 23 |
| Ø50 | 75 | ±0.6 | 16 | ±0.5 | 10 | 0-0.6 | 24 |
| Ø55 | 75 | ±0.6 | 16 | ±0.5 | 10 | 0-0.6 | 25 |
| Ø60 | 75 | ±0.6 | 16 | ±0.5 | 10 | 0-0.6 | 27 |
| Ø65 | 75 | ±0.6 | 16 | ±0.5 | 10 | 0-0.6 | 29 |
| Ø70 | 80 | ±0.8 | 16 | ±0.5 | 10 | 0-0.6 | 31 |
| Ø80 | 80 | ±0.8 | 16 | ±10 | 10 | 0-0.6 | 34 |
| Ø100 | 80 | ±1.0 | 16 | ±0.5 | 10 | 0-0.6 | 39 |
Drill Pipes Types
Integral Drill Pipes
Split Drill Pipes